In honour of the late director Adam Brace, Alex Edelman's smash-hit solo show Just for Us will conclude its Broadway debut with a one-off benefit performance at Edinburgh Festival Fringe.
Tickets are now on sale for the special show, on Saturday 26 August.
All profits will go to an award that will be set up in Adam Brace's name, which supports talent in the way Adam did, with details to follow.
Expertly crafted by one of comedy's most distinctive voices, this singular theatrical experience is an exploration of identity and our collective capacity for empathy —and it's also "belly-laugh funny!" (The New York Times). In the wake of a string of anti-Semitic rhetoric pointed in his direction online, standup comic Edelman decides to go straight to the source; specifically, Queens, where he covertly attends a meeting of White Nationalists and comes face-to-face with the people behind the keyboards. What happens next forms the backbone of the shockingly relevant, utterly hilarious, and only moderately perspirant stories that comprise JUST FOR US.
In May this year it was announced with deep sadness JUST FOR US's director Adam Brace's had died following a short illness at the age of 43. Adam was a director (including of all of Alex Edelman's shows), co-creator, dramaturg, script editor and writer. He was a unique talent of our time, working with artists all over the world across theatre, comedy and performance. Adam was fiercely proud of all of his shows and the artists he worked with, he loved working with them, and everyone loved working with him. A festival staple, Adam's presence is very much missed at this year's Edinburgh Fringe Festival by family, friends, colleagues and collaborators, with performers talking about his influence and impact of his loss on stage in their shows.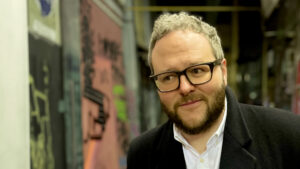 Alex Edelman, Soho Theatre and Pleasance present
JUST FOR US
Written and directed by Alex Edelman
Directed by Adam Brace
11pm, Saturday 26 August
Pleasance Courtyard, Grand
85mins
Tickets £20 / £18 (conc)
"My collaboration with Adam started at the Fringe in 2012. Our first show together in 2014 gave me the ability to be a comedian. And I think it's appropriate that, after such a long journey, this show should have an Edinburgh goodbye - in his honor - at the Festival that was Adam's favorite place. And mine."